High Potential started in 2014 to develop and distribute psychometric tests. In 2014 and the early years of High Potential, the primary psychometric tool was the High Potential Traits Indicator (which is now distributed by Thomas International).
High Potential has been developing new psychometrics ever since, including of Motivation, Resilience, Engagement, Adaptation Strategies, and other measures. Check out what's currently available to try on our website in the Tests section.
We have used our psychometric tests as well as bespoke assessments with small businesses and consultants, FTSE100 companies, non-profits and militaries around the world.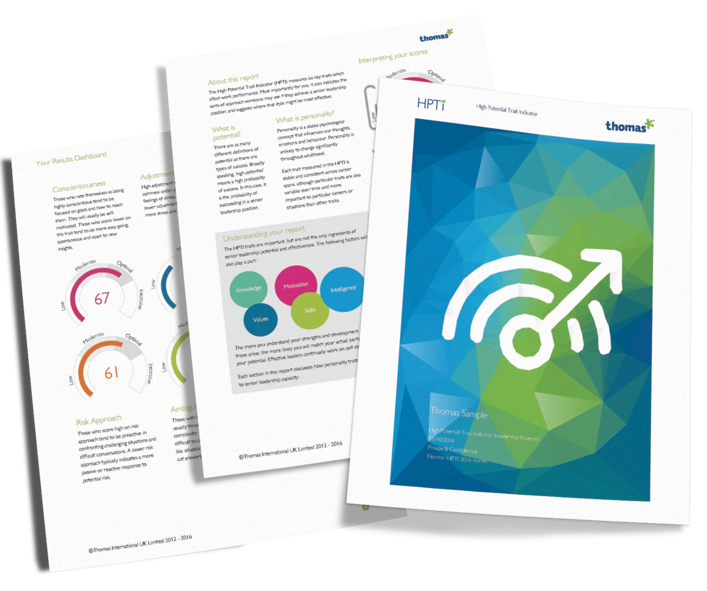 HPTI
The High Potential Trait Indicator (HPTI) is a workplace personality assessment grounded in the 'Big 5' model, assessing traits that predict job success and risk for derailment.
The HPTI offers a unique and nuanced opportunity to predict both performance and potential at work. Measuring personality traits as stable characteristics distinguishes what cannot be taught or changed (personality) from that which can be taught such as knowledge and experience.
The HPTI assesses potential along six key personality traits:
Conscientiousness: Those who rate themselves as being highly conscientious tend to be focused on goals and how to reach them. They will usually be self-motivated Those who score lower on this trait tend to be more easy-going,
spontaneous and open to new insight.
Adjustment: High adjustment scores suggest calmness under pressure and fewer feelings of stress. Those who report
lower adjustment tend to experience more stress and worry.
Curiosity: Those with high curiosity scores often like novelty, learning and variety. By contrast, lower curiosity suggests
a liking for tried and tested methods and consistency.
Risk Approach: Those who score high on risk approach tend to bring a reasoned and rational approach to difficult situations and conversations. A lower risk approach characteristically indicates more instinctive or emotional
decisions.
Ambiguity Acceptance: Those with high ambiguity acceptance usually thrive on uncertainty and complexity. Those who find it more difficult to cope with ambiguity may like situations where there are clear-cut answers and solutions.
Competitiveness: High competitiveness scores are typical of people who enjoy positions of power, influence and recognition. Less competitive people prefer cooperation and collaboration; they may dislike the spotlight.
Contact us to ask about using the HPTI, or bespoke assessment, tools and advice to use the HPTI effectively in your team or organization.